La Collective, an innovative art center at the center of Paris in 2026
An artistic, solidarity and ecological project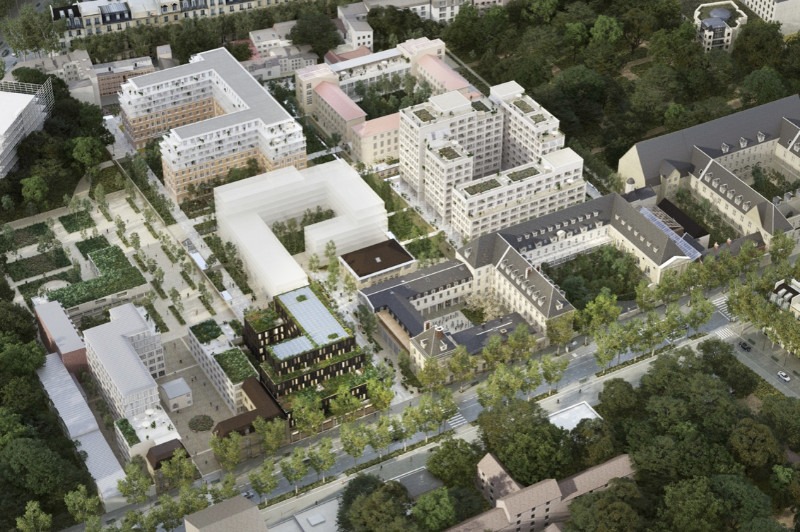 In 2020, Thanks for Nothing won the City of Paris's competition for the rehabilitation and transformation of the former Saint-Vincent de Paul hospital, located in the 14th arrondissement of Paris. This museum of a new kind called "LA COLLECTIVE" will be an inclusive venue for artistic creation, solidarity and ecology, aiming for artistic excellence with an international outlook.
In 2026, La Collective will set up in a 4000 sqm space both inside the former Saint-Vincent de Paul hospital – Denfert facade – and a new contemporary building designed by Swedish agency Tham & Videgård. La Collective will mark the entrance of a brand-new urban plan, the new Saint-Vincent de Paul neighborhood, situated between Port-Royal and Denfert-Rochereau.
La Collective, a venue for both culture and solidarity: a dialogue between the art world and NGOs
Following the innovative project « Grands Voisins », lead for 5 years by NGOs YesWeCamp, Aurore and Plateau Urbain, La Collective will be a venue where artistic creation, solidarity and the general public will come together to form concrete action. 
Visitors will have free access to two exhibitions per year as well as outdoor art projects. They will also have the opportunity to meet the 14 artists in residence each year and take part in conferences, performances, screenings, educational programmes. La Collective will also be a venue where the general public will be able to meet representatives from NGOs working in the fields of human rights, protection of the environment or access to education.
With more than 150 000 visitors expected each year, La Collective will truly be an inclusive place for everyday life.
Much more than a traditional art center, La Collective will be setting an ecosystem where 3 components – art, solidarity, ecology – will come together to establish new forms of culture and encourage social commitment.
A SOLIDARITY CENTER : NGOs at the heart of the project
La Collective will establish an ecosystem encouraging civic action and social commitment. The general public will be able to meet with representatives from Ngos working towards social development and learn more about the issues they deal with as well as the actions they lead on the fields.
La Collective is a solidarity center carried out through actions lead by partner NGOs :
An emergency shelter run by NGO Emmaüs Solidarité to welcome women and families
A restaurant, a café and outdoor spaces run by Refugee Food Festival to showcase culinary creations of refugee chefs.
An economic hub through an incubator for social and solidarity economy lead by Makesense. Most of the hub will be freely accessible to the general public so that they can meet young Ngos and start-ups working in the fields of solidarity and social development.
Trainings, workshops and conferences on social issues all those NGOs deal with. Representatives of international NGOs will be also be invited to talk about their everyday actions and field works.
AN ARCHITECTURAL PROJECT
A heritage project
La Collective is part of the rehabilitation project of the former Saint-Vincent-de-Paul hospital, in the heart of the 14th arrondissement of Paris. It is a significant heritage located between Port-Royal and Denfert Rochereau, next to the Fondation Cartier. The City of Paris' open call was a call to reuse a building that is emblematic to the neighborhood in order to protect our heritage, restore it and give it a second life.
This renovation project resonates with the new architectural project: a new building at the cutting edge of environmental innovation that will complement the cultural facilities.
The renovation of the Robin & Oratoire buildings was reviewed and lead by 51N4E et the atelier MONCHECOURT so that the original features of the buildings are preserved.
Funding
La Collective is financed by a solidarity real estate company that gathers GALIA company, the Banque des Territoires and the Crédit Coopératif together. 5% of the capital will be open to a crowdfunding campaign.
A CENTER FOR ART AND CREATION
La Collective aims for artistic excellence and an international outlook through:
An exhibition space of over 600 sqm
A multidisciplinary program setting a dialogue between French and international art scenes
The Villa Denfert, an international and multidisciplinary artists-in-residence program. Each year, it will be welcoming more than 14 artists working on topics related to social and environmental issues through an international open call
A workshop for artistic creation
Outdoor art exhibitions
Cultural events taking place in La Pouponnière (a 300 seats auditorium): conferences, screenings, performances, concerts, educative programmes
Support for education through training and educational workshops
A summer school with international thinkers and academics
AN ECOLOGICAL CENTER
La Collective is an example of a pioneering ecological structure, including the new building designed by Swedish agency Tham & Videgård, designers of the Moderna Museet Malmö (Sweden). It consists of a stone plinth that takes up and extends the former wall of the hospital, on top of which sits a stepped structure made of burnt wood, a technique inherited from Japanese tradition. The whole facility complies with the sustainable development goals set by the City of Paris towards carbon neutrality.
This « zero waste, zero rejection, zero carbon » project includes:
Systematic use of sustainable and innovative materials to regulate temperatures
Green spaces for biodiversity protection through a roof planted with local species
Gardens and terraces with a circular use of water between buildings
A circular economy based on reuse and transformation of existing materials
The team
Promoteurs : ALTAREA COGEDIM – HISTOIRE & PATRIMOINE
Bailleur locatif intermédiaire : CDC HABITAT
Exploitants CINASPIC : THANKS FOR NOTHING – EMMAÜS SOLIDARITÉ – MAKESENSE – REFUGEE FOOD FESTIVAL
Foncière CINASPIC : Galia – Crédit Coopératif – Banque des Territoires – Lita – La Nef (investisseurs) – Etic (structuration foncière)
Partenaires culturels : L'Institut français – La Fondation Culture et Diversité – Céline Danion – La Réserve des Arts – Le Parti Poétique – CNC – Universcience
Gestionnaire centrale de mobilité : SOGARIS
Partenaires mobilité : Véloptimo – EDF
Maîtrise d'œuvre : 51N4E – THAM & VIDEGÅRD – CALQ – ATELIER MONCHECOURT (architectes) – GRUE (paysagiste)
Bureaux d'études / AMO : ZEFCO (BE environnement) – EVP (BE structure) – TECKICEA (BE structure bois) – ALTIA (BE acoustique) – BUILDERS (AMO BIM) – ALGOE (AMO mobilité) – Valérie Lebois (AMO co-conception)