Thanks for Nothing x ASIA NOW 2022

A day of programs on the socially engaged Asian art scene
You can cut all the flowers, but you can't keep spring from coming

© Chalisée Naamani
Friday, October 21st 2022 from 9:30AM to 7PM

MONNAIE DE PARIS, 11 QUAI DE CONTI, 75006 PARIS
Thanks for Nothing x ASIA NOW

Programming on the socially committed Asian art scene
Sights to listen

© Rojin Shafiei
Friday, October 22nd from 11AM to 7:30PM

ASIA NOW, 9 AVENUE HOCHE, 75008 PARIS
At the invitation of ASIA NOW, Thanks for Nothing organized one collaborative and educational workshop and 4 panels that highlighted the socially engaged practices of the Asian art scene.
Highlighting different individual and collective practices, the diversity of the speakers has put forward the different regions' artistic richness, the curatorial processes and the social engagement of the Asian art scene.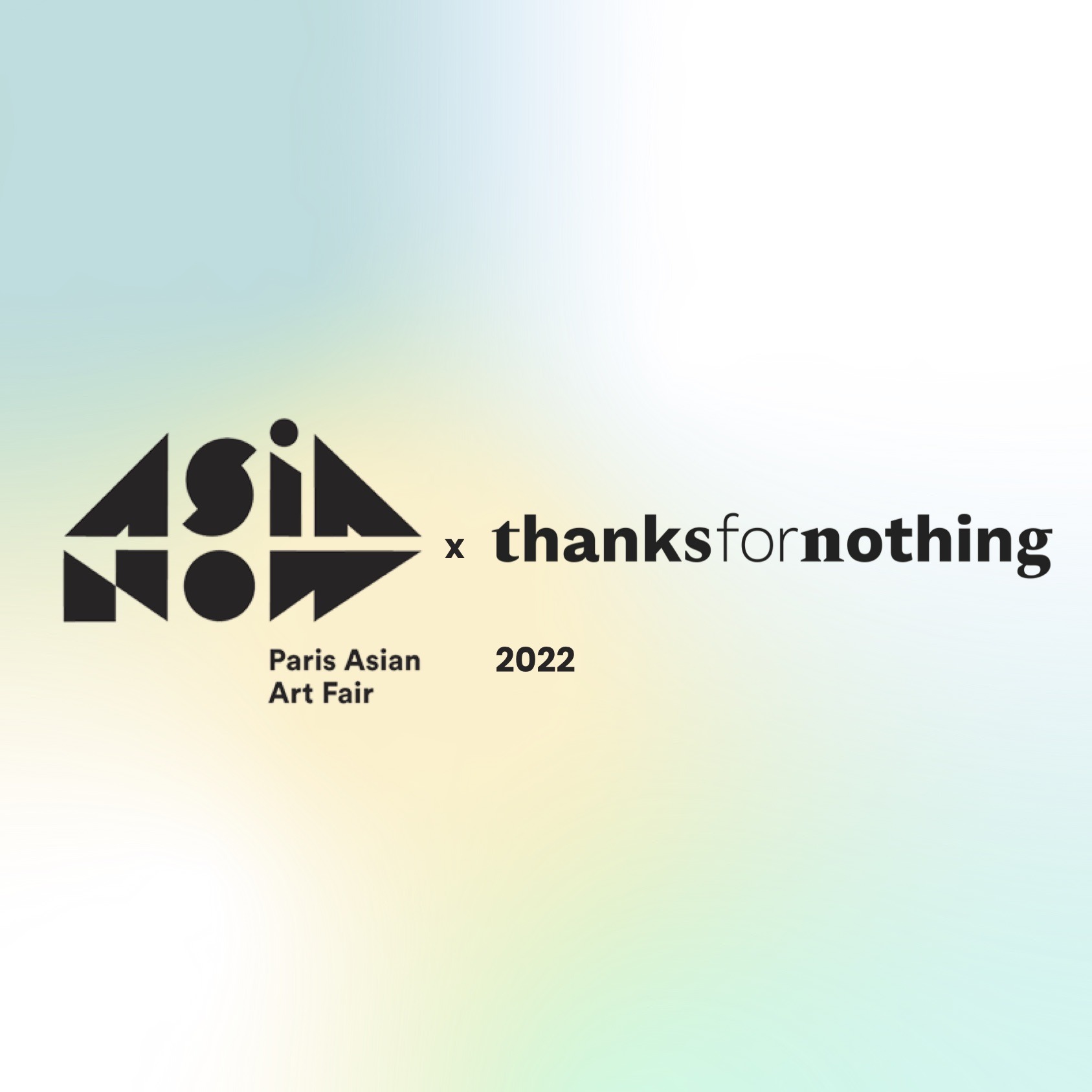 Collaborative workshop with artist Desire Moheb-Zandi
9:30AM – 11AM
Thanks for Nothing organized a collaborative and educational workshop with the Turkish-German artist Desire Moheb-Zandi. It involved 2 first grade classes from the Porte Brancion elementary school (Paris 15th) considered Réseau d'Éducation Prioritaire.
Credit : © The Social Medium. 
Panel n°1:
Ceramics, a craft and socially engaged practice
12PM – 1:15PM In French
With:
Nicolas Trembley, Art Critic and Curator
Anne Dressen, Curator at the ARC, Musée d'art moderne de la Ville de Paris, Doctorate student SACRe at the ENS
Graziella Semerciyan, Curator and Founder of the eponymous gallery
Natsuko Uchino, Artist
Moderators: Marine Van Schoonbeek and Aska Gauthier, Thanks for Nothing
Panel n°2:
Creating in times of crisis through the lens of Lebanon, Iran and China
2:30PM – 3:45PM In French and in English
With:
Joana Hadjithomas and Khalil Joreige, Artists, Filmmakers and Founding members of the Correspondaences Program
Sandra Terdjman, Co-founder of KADIST/ AFIELD and Founding member of the Correspondaences Program
Barbad Golshiri, Artist
Chalisée Naamani, Artist
Mehdi Brit, Cultural Attaché at the French Embassy in China (2018-2022), Curator
Moderators: Marine Van Schoonbeek and Clarisse Dumazy, Thanks for Nothing
Panel n°3:
Collective practices in Asia
4PM – 5:15PM In English
With:
Antariksa, Historian and Artist, Founding member of KUNCI
Kei Imazu and Badus Pandega, Artists
Aung Ko, Artist
Yipei Lee, Founder and Curator of SUAVEART & Wagiwagi
Moderator: Kathy Alliou, Head of collection, exhibition and educational program of Les Beaux-Arts de Paris, Artistic Director of Asia Now 2022
Panel n°4:
Mapping out Asia
5:30PM – 6:45PM In English and French

With:
Sabih Ahmed, Associate Director and Curator, Ishara Art Foundation
Arnaud Bertrand, Archaeologist, sinologist, co-founder of the Asia Collections Network-Europe, Cultural Coordinator of the Printemps Asiatique, Executive Director of French Association of Friends of the Orient
Yang Jiechang, Artist
Yessaï Karapetian, Pianist and composer
Martina Köppel-Yang, Curator
Moderator: Anne-Hélène Decaux, President of Thanks for Nothing and Jean-Michel Dumont, Founding member Asia Society France
Intervention from Alireza Shojaian, Artist
Founded in 2014 by Claude Fain and Alexandra Fain, the ASIA NOW fair aims to present the new perspectives and challenges of Asian contemporary art and its market: the value of its artists, its development potential and its rising figures.
In 2022, Thanks for Nothing was invited to participate in the 8th edition of the fair.