Workshops
"Artworks for Solidarity"
September 2019 – September 2020
Workshops
"Artworks for Solidarity"
Thanks For Nothing developped its program "Artworks for Solidarity" initiated on September 13th, 2019 at the Galleria Continua around the creation of the work "Walking Sculpture" by Michelangelo Pistoletto.
In 2020, Thanks for Nothing created a series of educational and participatory workshops for underprivileged audiences around the work of an artist. All of the workshops were set up with the same participants: beneficiaries of the associations La Cloche and la Timmy as well as pupils from the CM1-CM2 class of the Lesseps school.
These workshops were part of a creative and humanistic action while addressing environmental issues. They integrated audiences confronted with inequalities and far removed from education and culture. This approach was also part of the National Education's education for sustainable development and moral and civic education.
The first workshop "Artworks for Solidarity" took place in three stages:
1° Friday 13 September 2019
Thanks for Nothing held its first workshop at the Galleria Continua. This day focused on raising public awareness of the links between environmental issues, solidarity and art. The purpose of this meeting between the beneficiaries of the associations, the pupils of the CM1-CM2 class and the members of the gallery was the creation of a work with Michelangelo Pistoletto: the "Walking Sculpture".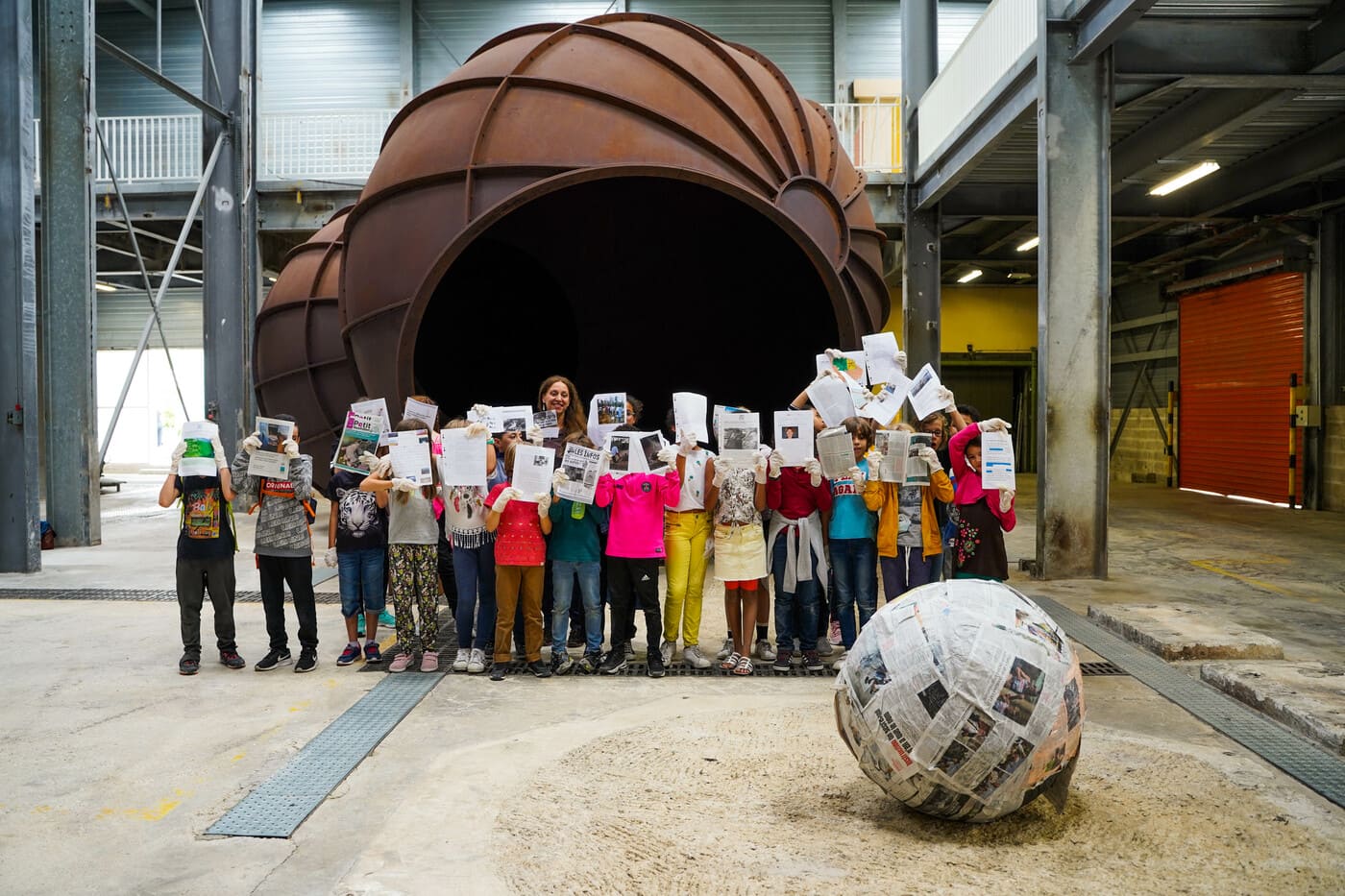 2° Saturday 5th October 2019
For the opening of the Nuit Blanche 2019 at the Cité des sciences et de l'industrie: the performance of the "Walking Sculpture", in the presence of the artist Michelangelo Pistoletto.
3° Friday 17 January 2020
Cittadellarte-Fondazione Pistoletto and Thanks for Nothing organized the "1°Rebirth Forum Paris". This forum brought together the partner associations La Cloche, La TIMMY and the CM1-CM2 pupils of the Lesseps school. In the dynamic initiated by previous Rebirth Forums around the world, the participants reflected together on the philosophy of the Third Paradise and were nourished by the concept of Demopraxia. The objective was to think collectively about a concrete action to be carried out around the theme "Art & Sustainable Development" for the spring of 2020.
Video from the first workshop "Autour de l'oeuvre"