Le Troisième Paradis – Nuit Blanche 2019
Saturday October 5, 2019
CITÉ DES SCIENCES ET DE L'INDUSTRIE
Le Troisième Paradis – Nuit Blanche 2019
Samedi 5 octobre 2019
CITÉ DES SCIENCES ET DE L'INDUSTRIE
Invited by and in co-production with the Cité des sciences et de l'industrie Thanks for Nothing organized a collaborative, artistic and engaged project that brought together art and environmental issues taking over the entire space of the institution. This project brought together more than 15,000 participants.
1º Artistic program
A cycle of performances, projections and workshops was conceived in collaboration with international artists.
Michelangelo Pistoletto was present for two exceptional performances. At 7:30 pm, he launched the night's programme with the "Walking Sculpture" performance. At 9pm, the public was invited to participate in a giant rendition of the "Third Paradise" performance.
For each participant in this performance, Thanks for Nothing planted a tree in collaboration with le Parti Poétique.
After workshops in more than 28 locations worldwide, become part of building the "Museo Aero Solar" based on the concept of Tomás Saraceno with Alberto Pesavento. Starting at 7:30 pm, the workshop consisted in bringing together used plastic objects that spread out and evolve in the Main Hall of the Cité.
Thanks for Nothing also presented a program of artists' films
that address environmental issues with:
Hicham Berrada – Galerie kamel mennour
Alex Cecchetti
Ali Cherri – Galerie Imane Farès
Laurent Grasso – Galerie Perrotin
Louise Hervé et Chloé Maillet – Galerie Marcelle Alix
Kapwani Kiwanga – Galerie Jérôme Poggi
Angelika Markul – Galería Albarrán Bourdais
Ariane Michel – with the support of the Fondation Tara Océan
Laure Prouvost – Galerie Nathalie Obadia
In the Planetarium of the Cité des sciences et de l'industrie, Thanks for Nothing gave Carte Blanche to the author Boris Bergmann who presented "Grain de ciel" in dialogue with the projection of scientific films.
2º Environmental association programming
In parallel, Thanks for Nothing invited NGOs that work on the preservation of the environment and the integration of disadvantaged communities into society.
Le Parti Poétique presented "La Forêt en mouvement", a forest of more than 200 trees that the public was invited to wander in, with the support of Maison Ruinart.
La Cloche, with its program the Clochettes, allows homeless people to renew social links thanks to the contact with nature and the environment.
La TIMMY hosts, guides, defends and accompanies foreign lone minors and young adults, especially those in the process of appeal.
To support them, members of the public were invited to act in solidarity by engaging with the different NGOs.
On the parvis of the Cité des sciences et de l'industrie, Devialet presented "Effondrement", an immersive acoustic experience developed by the director Luc Jacquet to raise awareness on the melting of polar glaciers.
After dark, everyone could joined us for DJ sets by YOU MAN and Sacrifice Seul. Also, le Perchoir installed an ephemeral bar for the duration of Nuit Blanche.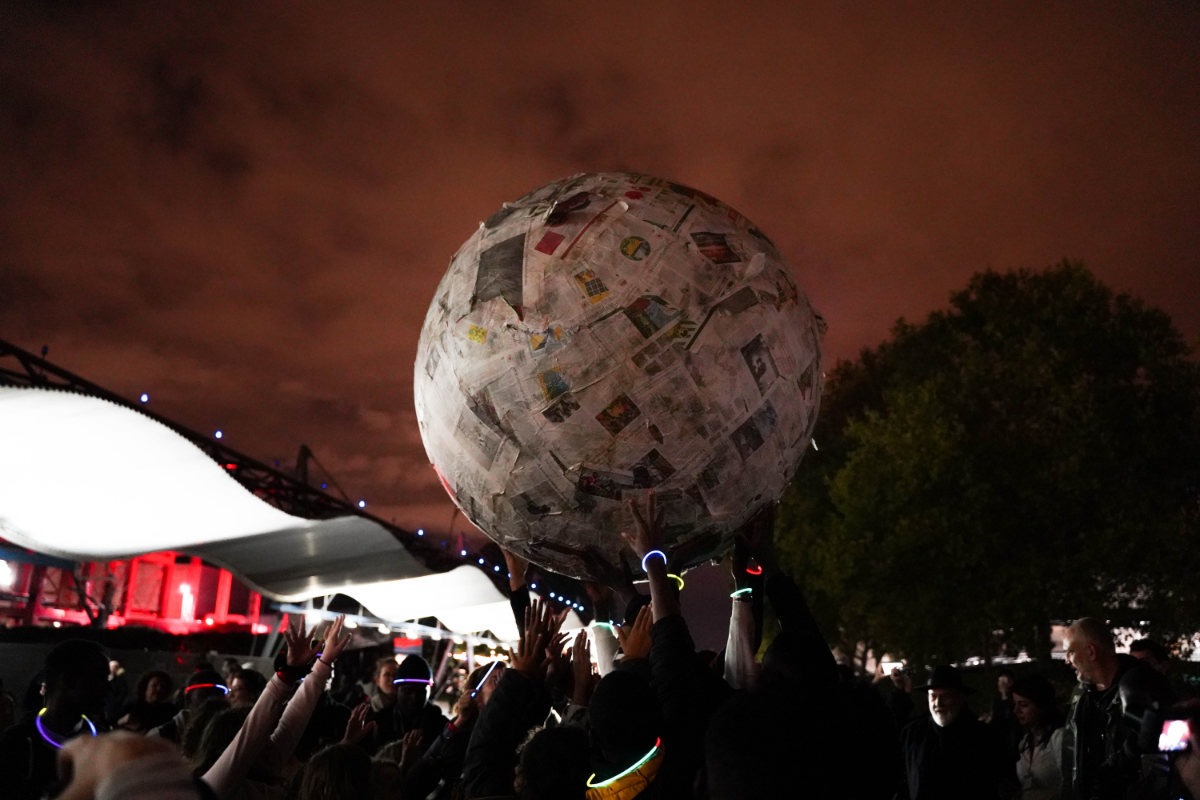 What has been the impact of the project?
The Parti Poétique was able to:
Receive funding to present the project "La Forêt en Mouvement", with more than 200 trees, still itinerant today
Initiate a project to plant more than 700 trees, thanks to the performance of the Third ParadiseParticipate in Michelangelo Pistoletto's artistic and solidarity workshops in collaboration with Galleria Continua from September 2019 to April 2020
La Timmy was able to:
Sensitize 10 exiled miners to the art world
Participate in Michelangelo Pistoletto's artistic and solidarity workshops in collaboration with Galleria Continua from September 2019 to April 2020.
Work for the access to culture for all
La Cloche was able to:
Sensitize 10 homeless people to the art world
Sensitize a third grade class to the world of the streets
Sensitize 30 participants of the programmed performance to the world of the streets
Participate in Michelangelo Pistoletto's artistic and solidarity workshops in collaboration with Galleria Continua from September 2019 to April 2020